National Immunization Awareness Week
National Immunization Awareness Week (NIAW) is an annual event held in the last week of April to highlight and recognize the importance of immunization. Canada's NIAW coincides with Vaccination Week in the Americas and World Immunization Week.
During NIAW, you will see increased publicity about the importance of immunization and the success and impact that immunization has had in protecting and saving lives. Many organizations, in Canada and around the world, participate in international strategies to raise awareness about the important role of vaccines.
Immunize Canada invites you to help celebrate National Immunization Awareness Week with us from April 21 to 28, 2018.
NIAW2018 media release (20 April 2018): Avoiding preventable illness is key to the health of Canadians.
Newly updated social media calendar for March and April 2018, leading up to National Immunization Awareness Week
#NIAW2018   #VaccinesWork   #GetVax
NIAW2018 poster (PDF: 730KB)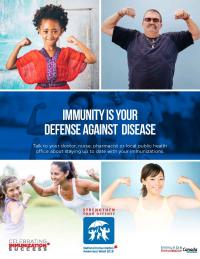 Please contact Immunize Canada to obtain a high-resolution, print-ready file.
Images for social media: Immunity is your defense against disease. Get immunized.
Celebrate NIAW2018 with these activities:
National Immunization Awareness Week 2018 in your community!
your plans and ideas for Immunization Awareness Week activities with your colleagues across Canada! Contact us and send us your ideas/plan/suggestions. Get ideas from our Awareness Campaign Ideas resource.
messaging promoting immunization and NIAW2018, via social media.
Read a short article about Canada's National Immunization Awareness Week.
Other resources
Read. Learn. Understand. False claims about homeopathic nosodes
(PDF: 195 KB)
Teacher's Kit: Integrating immunization education into the Grade 6 curriculum
Provides teachers with resources and ideas organized by curriculum subject matter that may be used to preparing Grade 6 students with their poster contest entries. Revised in 2018.
Immunize Canada thanks the Ontario Institute for Studies in Education (OISE) of the University of Toronto for reviewing this kit.
(PDF: 7.9 MB)
Winning posters: National Immunization Poster Contest
Visit the Government of Canada website for additional immunization and vaccine awareness resources.