Influenza and Pneumococcal Immunization Awareness Campaign 2018-2019
Below you will find a number of resources available to you to support your local Influenza and Pneumococcal Immunization Awareness Campaign.
2018-2019 NACI Statement on Seasonal Influenza Vaccine
Flu Prevention Week: 29 October to 02 November 2018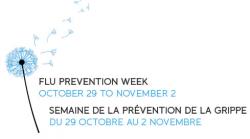 2018-2019 Influenza Campaign Resources
Social media calendar for September-October 2018
Immunize Canada is going green! Please note that, as of spring 2018 and once stocks are depleted, Immunize Canada will no longer be providing printed resources. The following resources are available for download only; you are welcome to print them. All our resources will remain available online for free, and will be kept up to date! If you have questions, or if you wish to obtain high-resolution files for printing, or if you require adaptation of any Immunize Canada resource, or insertion of your organization's logo, please contact the Immunize Canada Secretariat.
Influenza Immunization: Pocket Guide for Health Care Providers
Posters
Influenza infographics
Social media images: influenza and pneumococcal immunization
Successful Healthcare Personnel Influenza Immunization Programs
Pneumococcal resources