National Immunization Poster Contest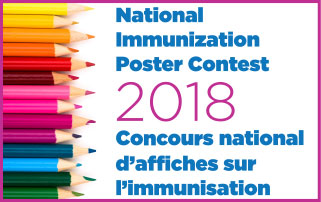 Every other year, Immunize Canada organizes a National Immunization Poster Contest, in conjunction with the Canadian Immunization Conference.
This contest provides Grade 6 students across Canada with an opportunity to submit works of art reflecting their ideas on immunization for good health. The winning posters are then reproduced and distributed in many formats.
The National Immunization Poster Contest will be held in the fall of 2018.
Thank you to BIOTECanada (Vaccine Industry Committee) and to the Canadian Paediatric Society for generously donating excellent prizes to the National Immunization Poster Contest!
Contest Rules
Rules for poster submission:
The contest is open to Grade 6 students registered in a Canadian school in the 2018-2019 school year.
Original artwork only.
Poster submissions must be on paper size 11x17, landscape format.
Please ensure that each poster has its own entry form, glued to the reverse side of the poster, clearly identifying the school, teacher, and student. All forms must be signed by a parent/guardian (giving permission to reproduce the winning posters and winners' names.
Mail posters flat to: National Immunization Poster Contest, c/o Canadian Public Health Association, 404-1525 Carling Avenue, Ottawa, Ontario  K1Z 8R9.
Entries must address immunization.
Entries must be postmarked no later than October 12, 2018 at 5:00 p.m. (Eastern Time).
All original paper artwork submitted to the contest will be retained by Immunize Canada. Winning artwork will be reproduced and displayed at the Canadian Immunization Conference in Ottawa, Ontario from December 4-6, 2018.

Judging Criteria:
Submitted posters will be judged on the following 3 criteria:
creative (Is the poster imaginative?)
colourful (Do the bright colours catch your eye?)
clear message (Does the poster tell us why it is important to immunize kids?)
For Teachers
Teacher's Kit: Integrating immunization education into the Grade 6 curriculum
Provides teachers with resources and ideas organized by curriculum subject matter that may be used to preparing Grade 6 students with their poster contest entries.
Immunize Canada thanks the Ontario Institute for Studies in Education (OISE)
of the University of Toronto for reviewing this kit (revised in 2018).
(PDF: 7.9 MB)
Kids Boost Immunity: sample lessons
Resources for Students
Winning Posters from Past Contests
National Winners 2016
Provincial Winners 2016
(No entries were received from Yukon, the Northwest Territories, or from Nunavut for the 2016 Poster Contest.)
See the winning posters from the 2014 National Immunization Poster Contest.