Additional Promotional Resources
Below you will find resources for promoting immunization.
Immunize Canada has gone green! Please note that Immunize Canada is no longer providing printed resources. The following resources are available for download only. You are welcome to download and print any of Immunize Canada's posters, brochures, fact sheets, infographics, and guides. All our resources will remain available online for free, and will be kept up to date! If you have questions, or if you wish to obtain high-resolution files for printing, or if you require adaptation of any Immunize Canada resource, or insertion of your organization's logo, please contact the Immunize Canada Secretariat.
Resources
Adult immunization
Meningococcal
Protecting adolescents and young adults from meningococcal disease
(social media image – .jpg: 1.2 MB)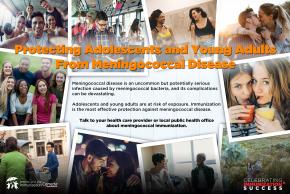 Hepatitis B
Hepatitis B is part of the routine childhood immunization schedule.
(social media image – .jpg: 465 KB)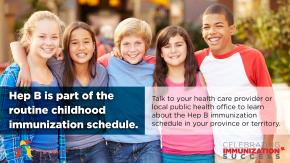 Pertussis (whooping cough)
Tetanus
Herpes Zoster (Shingles)
Rotavirus
Pneumococcal